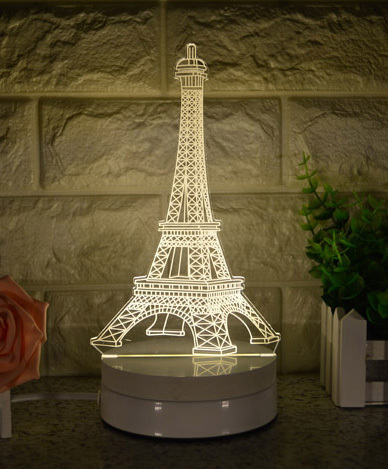 The Eiffel Tower 3D LED Night Light
Features:
Material:ABS+Acrylic
Colors:3 Color change
Light Source:LED Bulbs
Application: Corridor, leisure and entertainment place, hotel lobby, exhibition hall, hotel rooms ,Home Furnishing places.
Voltage: 110v-240v
Base size: 87x87x43mm
Power Source:DC
We using 3D wire-frame images and transferring them onto 2D materials, to create functional and delicate design pieces that trick the eye!
• This is an elegant lamp that will add an innovative design element to any room or office.
• Surprise friends, family or co-workers with the element of optical illusion.
• 3D novelty mood lamp can even be a fun piece for the kids at night – they'll love it.
• Base has been made to suit all designs, so you can completely change the lamp based on the room, mood etc..- just pick up the 2D shape and change it with another of your favourites.

---